FACTORY
More Reliable, More innovative

Clean room &
Air shower booth
Total 3 clean rooms (for high brightness & Resized LCD panel)
Cleanness class 1,000
Clean room control : particle counter, Temp & Humid controller
Complete ESD Protection : Conductive floor, Work bench
Area 700㎡
Free Flow
conveyor Line
Main purpose : to assemble the monitor
Item : Standard LCD displays, High brightness display, industrial monitor etc.
Area 187㎡
Capacity : about 1K pcs monitor per month
CHAMBER FOR
RELIABILITY TEST
Humidity test
Temperature test
Clean Bench
To aseemble the touch screen (such as P-CAP,,,, and so on)
To remove dust on displays
And so on…..
Burn-in Room

Main purpose : reliability test
Condition : at 35℃(max. 60℃)
Area 700㎡
1
Professional
Optical enhancement

To meet the increasing demand for outdoor display in advertising and industrial market,
GSD has developed high brightness display products with in-house LED backlights and components.
√ Sunlight readable LCD up to 2,000nits
√ GSD's own unique BLU design to maximize light efficiency and uniformity
√ Reliable proprietary LED driving board & Temperature & brightness control technology
√ Heat dissipation
√ Auto dimming up/down
√ Long life time

2
Innovative
Panel resizing

GSD has launched new eye catching displays with innovative panel resizing technology.
It provides ultra wide display as a ne concept of display with space saving and ensures optical visual effects.
√ Customized aspect ratio to meet the various requirements
√ Product lineup to encompass both indoor and outdoor by technology integration
√ Superior yield rate of cutting process and sophisticated reliability

3
Flexible
Fast custom design

GSD manufactures and supplies tailored displays for customers who need the customized solutions for design, function, optical appearance, and special options.
√ Customized metal design
√ Rugged enclosure & circuit design
√ Optical bonding
√ Various touch overlays
√ Ruggedizing : Waterproof, Vandal proof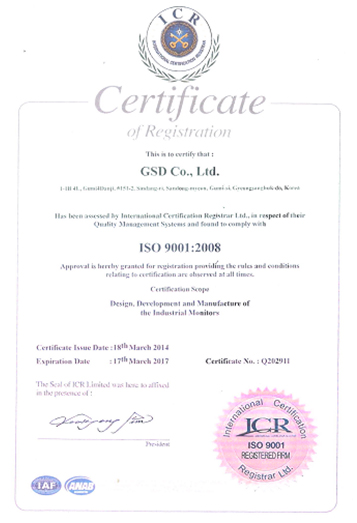 ISO 9001:2008
CE Certification (Only part for reference)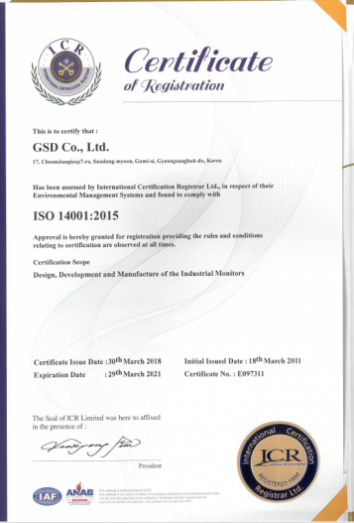 ISO 14001:2015
FCC Certification (Only part for reference)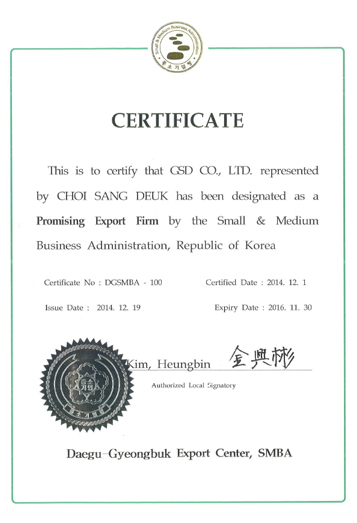 Promising Export Firm Certificate
by Korean administration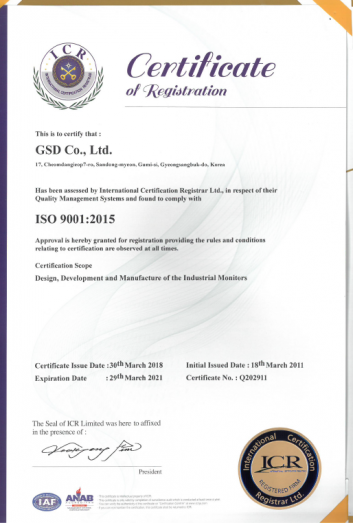 ISO 9001:2015
INNO Biz Certificate by Korean administration